Zirconia crowns and bridges
Zirconia crowns and bridges in Tijuana
Tijuana Dentistry offers natural looking, strong and translucent crowns and bridges in Tijuana Mexico at affordable prices.
Zirconia is a man made white powdered metal that is used in dentistry to make restorations like crowns and bridges. One of the biggest advantages of restorations made of zirconia is that they are very strong and durable, and can be used anywhere in the mouth, in anteriors and posteriors, but also, they have a beautiful and natural looking because of its translucency.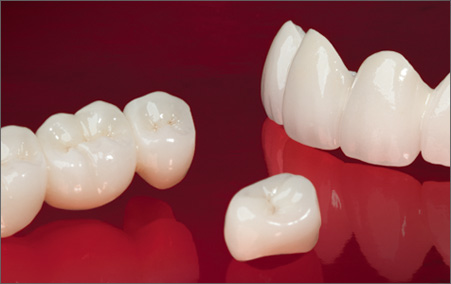 Superior strength
Zirconia restorations like crowns and bridges are becoming more popular and the treatment of choice of an increasing number patients. One of the reasons is because they are very strong and resistant. Other types of restorations like all ceramic and porcelain crowns can chip or crack more easily while zirconia maintains its strength and durability.
Natural look and feel
Zirconia restorations have a translucent white that looks just beautiful, very similar to a natural tooth or teeth. It is beautiful how zirconia restorations reflect the light, unlike other metal cores that block the light, they have a very natural look as they allow light to pass through, they are also glazed with a smooth surface for improved aesthetics. Zirconia restorations have no dark metal inside or at the margins.
Lack of conductivity
The aesthetic effects of zirconia, besides the strength and durability are some of the advantages of zirconia restorations, there is also another great benefit, with zirconia you have less chances to feel uncomfortable hot and cold sensations because of the lack of conductivity.
Biocompatible
Zirconia restorations are biocompatible, they are not rejected by the human body, you do not have to worry about adverse reactions of your body and you can have them in your mouth for long periods of time.
CAD/CAM Technology
Computer aided design and computer aided manufacturing (CAD/CAM) allow for the creation of beautiful and precise zirconia restorations made with the most advanced dental technology.